Add...

Koolance 705 Liquid Coolant, Electrically Insulative, Colorless, 700ml (24 fl oz)
SKU: LIQ-705CL-B

In Stock
FedEx orders in next 7 hrs, 51 mins ship today.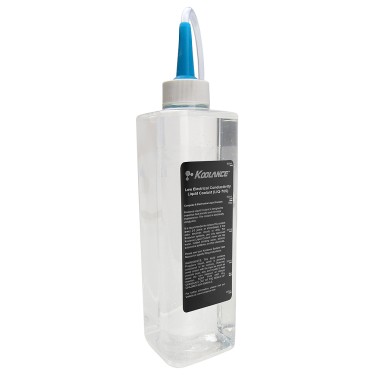 Koolance 705 series coolant is used by many industries requiring a low conductivity (3 microSiemens per centimeter), low-toxicity, reliable coolant with corrosion and biological inhibitors. A high quality coolant is extremely important for addressing dissimilar metals and biologic growth (bacterial and algae) long-term. Koolance liquids will not clog components and can typically be used for 2-3 years before replacement is recommended.
This container includes 700ml (24 fl oz) of prediluted coolant and can function as a squirt bottle for convenient reservoir filling. It's recommended to replace the coolant every 2-3 years, or immediately if there is any change in color or clarity.
The freezing point is -35°C (-31°F). This coolant has been tested with the following materials:
Metals: copper, brass, aluminum, stainless steel, nickel, steel, gold, lead
Plastics: ABS, PA66, PBT, PE, PEI, PES, PETG, PMMA, POM, PP, PPE, PPO, PPS, PTFE, PU, PVC
Rubber: EPDM
NOTE: Not recommended for polycarbonate plastics or other PC-based plastics.
"Low-Conductivity" vs. "Non-Conductive"

Liquid coolant mixtures based primarily on water will conduct some amount of electricity. With the exception of high amperage devices like power supplies, computer hardware is generally of low enough current not to conduct significantly through these types of fluids. Keep in mind that foreign debris (such as dust) will increase the conductivity of water-based coolants.

In contrast with some coolant manufacturers, Koolance feels that "Non-Conductive" is an improper term for water-based coolants. Although our coolant is actually of greater electrical resistance than many other brands available today, we feel a more correct term for this type of coolant is "Low-Conductivity".
General
Weight
2.10 lb (0.95 kg)
Liquid Coolant
Color
Clear
Electrical Conductivity (µS/cm)
3
Freezing Point
-35°C (-31ºF)
Specific Gravity @20°C
1.04
UV Reactive
No
Viscosity @20°C (cP)
4.3
Volume
700mL (23.67 fl oz)
Liquid Coolants
Koolance's product warranty does not cover the use of 3rd-party coolants, coolant additives, or corrosion. Koolance LIQ-702 or LIQ-705 coolants are strongly recommended to help avoid issues with mixed metals or biological growth. Additionally, do not use aluminum with bare (unplated) copper or bare (unplated) brass in the same system. Do not use silver with nickel in the same system.