Add...

PMP-300 Pump, G 1/4 BSP (Refurb)
Part No. PMP-300-R

In Stock
Fedex orders placed now will ship on July 6th.

Add Related Products
Fan Wiring Harness

BSPP Fittings

NOTE: Refurbished items have been returned to us, used or unused, for whatever reason and have been reconditioned to manufacturer specification. These items may bear signs of usage, shipping, or wear. However, they will have been professionally serviced and wherever necessary, components replaced. Refurbished items from Koolance.com carry a full product warranty.
The PMP-300 is a compact pump with low power consumption. It features G 1/4 BSPP inlet and outlet threads and comes with a detachable steel mounting bracket, screws, and vibration dampening washers.
Maximum Flow Rate: 7L/min (1.85 gal/min)
Maximum Head Pressure: 2.6m (8.53ft)
Motor: Brushless DC
Power Consumption (at max): 9.6W
Voltage Range: 6 to 12 VDC
Maximum Temperature: 60°C (140°F)
Electrical Connector: 3-pin fan header with tachometer speed signal
Hose Connections: G 1/4 BSPP Threads
Noise: Less than 40dBA
Weight: 283g (10oz)
MTBF 30k hours
General
Weight
0.80 lb (0.36 kg)
Max Pressure @ 25°C
1.5kgf/cm2 (21.3psi)
Max Temperature
60°C (140°F)
Pumps
Max Flow Rate
7L/min (1.85GPM)
Max Power
9.6W
Max Static Head
2.6m (8.53ft)
Native Hose Connection
G 1/4 BSP Threads
Speed Knob
Tachometer
yes
Type
Magnetic Centrifugal
Voltage
6-12 VDC
Dimensions
Diagrams / Models
(See Files Tab for Diagrams and 3D Models)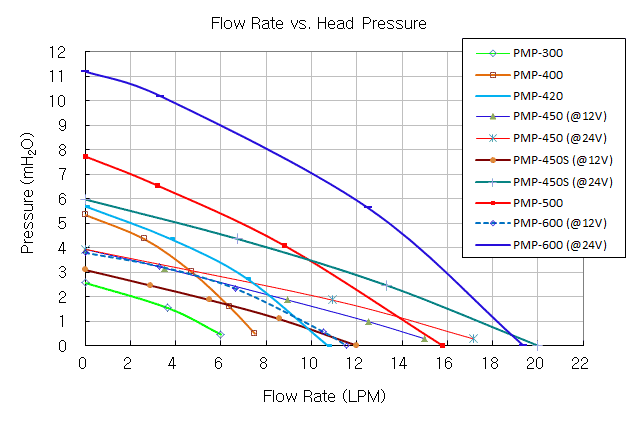 Liquid Coolants
Koolance's product warranty does not cover the use of 3rd-party coolants, coolant additives, or corrosion. Koolance LIQ-702 or LIQ-705 coolants are strongly recommended to help avoid issues with mixed metals or biological growth. Additionally, do not use aluminum with bare (unplated) copper or bare (unplated) brass in the same system. Do not use silver with nickel in the same system.