Power Supplies
Sufficient Depth and Width are Needed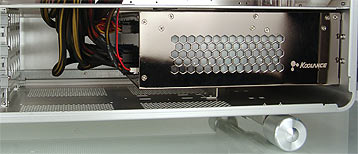 Like many power supplies capable of handling multiple high-end video cards, the PSU-1300ATX-12N and PSU-1000ATX-12N are deeper than typical PSU's. The internal cooling system also adds about 2mm (3/32") to the usual width.
The PSU-1300ATX-12N requires at least 9.5" (24cm) of depth available for the power supply, and an additional 2-2.75" (5-7cm) for the internal cables and connectors (depending on arrangement and the number of cables used). The PSU-1000ATX-12N requires at least 8.15" (20.7cm) of depth, plus 2-2.75" (5-7cm) for cables.
Both units are 6" (15.2cm) wide. For chassis which place the power supply near to a support bracket or side panel or require the PSU to be inserted through the back of the chassis (rather than from inside), please make sure sufficient clearance is allowed for the PSU-1300ATX-12N and PSU-1000ATX-12N.
Customizing the Rear Mounting Plate
To accommodate the power supply's special rear liquid-to-liquid heat exchanger, some chassis may require modification to the power supply back plate. This is the area which mounts to the rear of the power supply.
If necessary, trim the required areas to accommodate the power supply's protrusions. (A template is provided to assist with this.)
For Koolance chassis listed above with removable PSU mounting plates, a pre-modified plate is alternatively offered. If your Koolance chassis does not have a removable power supply plate, the chassis must be trimmed directly.
Support Bracket

The PSU-1300ATX-12N and PSU-1000ATX-12N include an additional support bracket, which may be used optionally to help stabilize the power supply. This can be beneficial for lighter weight chassis with top-mounted power supplies.
The support bracket is attached with screws to the power supply's internal connector side. It can be placed on either side of the power supply, but the least-open side of the chassis is recommended (opposite the computer's side window, if any).
The bracket is adjustable to meet the distance to the chassis side panel. An included self-adhesive velcro pad can be used to affix the power supply bracket to the chassis' side panel. There are also threaded holes provided if a more permanent mounting method is desired.
Installing into a Koolance Chassis System
The following Koolance chassis are compatible with the PSU-1300ATX-12N and PSU-1000ATX-12N with some modifications:
PC3-724, PC3-725, PC3-726, PC3-736
PC4-1024, PC4-1025, PC4-1026, PC4-1036
PC5-1026, PC5-1036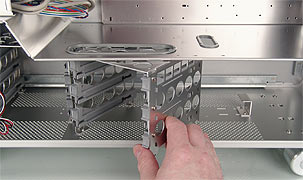 Each Koolance chassis listed above requires the permanent removal of the rear hard drive bay in order to fit these power supplies. Please refer to the power supply user manual for instructions on how to do this.