Reservoir and Pump Replacement, RP-980/985, Refurb
Part No. TNK-RP980-R

In Stock
Fedex orders placed now will ship on October 5th.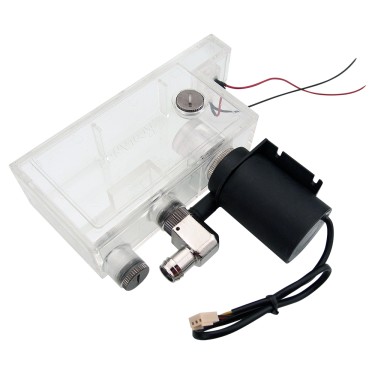 ID:
10mm (3/8")
OD:
13mm (1/2")
Wall:
1.5mm (1/16")
Intended Tubing Size

NOTE: Refurbished items have been returned to us, used or unused, for whatever reason and have been reconditioned to manufacturer specification. These items may bear signs of usage, shipping, or wear. However, they will have been professionally serviced and wherever necessary, components replaced. Refurbished items from Koolance.com carry a full product warranty.
Replacement pump and reservoir assembly for Koolance RP-980 and RP-985 5.25" bay units.
General
Weight
0.80 lb (0.36 kg)
Reservoirs
Capacity
237mL (8 fl oz)
Pump
PMP-300 @ 12V
Liquid Coolants
Koolance's product warranty does not cover the use of 3rd-party coolants, coolant additives, or corrosion. Koolance LIQ-702 or LIQ-705 coolants are strongly recommended to help avoid issues with mixed metals or biological growth. Additionally, do not use aluminum with bare (unplated) copper or bare (unplated) brass in the same system. Do not use silver with nickel in the same system.