VLX-450 Inline 450W Chiller Subassembly, 24VDC (Rev.1.2)
Part No. VLX-450
This product is archived and displayed for information only. It is no longer available for purchase.

Released: 27 February 2017
VLX-450 is a ready-to-integrate, compact, open frame chiller. Cooling performance is 450W, or 1535 BTU/hr @25°C liquid & ambient (0°C delta-T). External liquid coolant must be pumped through the VLX-450's copper-brazed stainless steel plate heat exchanger via two G 1/4 BSPP fittings. Fittings and coolant pump are not included.
A toggle switch selects between two methods of chiller control: 0-5V input signal or manual speed knob. Wire terminals are readily accessed if an alternative control scheme is desired.
Cooling capacity: 450W (1535BTU/hr) @ 25°C liquid/ambient
Refrigerant: R-134a
Power input: 24VDC, 250W
Designed for an operational temperature range of 0-40°C (ambient and liquid)
G 1/4 BSPP threads on plate heat exchanger for inlet/outlet fittings
NOTE: Requires 24VDC input power. Koolance offers a separate power supply for AC wall outlet sources. Keep unit upright at all times, and for at least 24 hours before applying power to ensure sufficient oil reaches the compressor.
General
Weight
10.20 lb (4.63 kg)
Fitting Thread
G 1/4 BSPP
Max Pressure Tolerance @ 25°C
2kgf/cm2 (28.5psi)
Max Temperature Tolerance
40°C (104°F)
Noise (dBA)
49-52
Cooling Systems
Cooling Capacity
450W (1535BTU/hr) @ 25°C liquid & ambient (0°C dT)
Max Power Consumption
230W
Power Source
24 VDC
Dimensions
Diagrams / Models
(See Files Tab for Diagrams and 3D Models)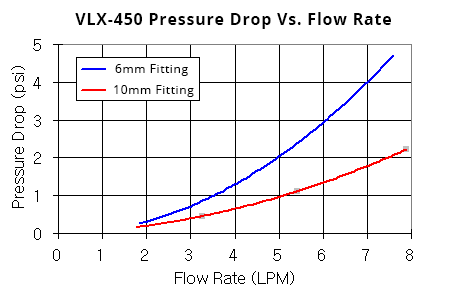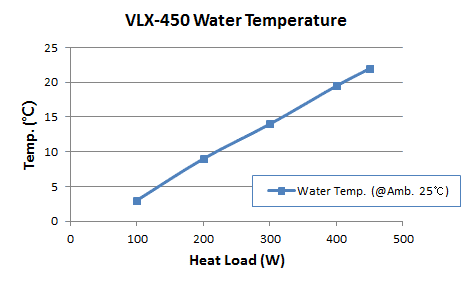 Liquid Coolants
Koolance's product warranty does not cover the use of 3rd-party coolants, coolant additives, or corrosion. Koolance LIQ-702 or LIQ-705 coolants are strongly recommended to help avoid issues with mixed metals or biological growth. Additionally, do not use aluminum with bare (unplated) copper or bare (unplated) brass in the same system. Do not use silver with nickel in the same system.