Coolant Fill Port / Drain Valve
Part No. PRT-XGK

In Stock
Fedex orders placed now will ship on January 18th.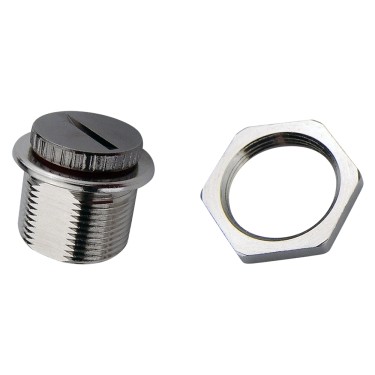 Coolant fill port for configurations without reservoirs (T-line air bleeding), or for separately locating the fill port from the reservoir. Can also be used as a drain valve if positioned low in the system. G 1/4 BSPP fitting threading, with bore size of 18mm (0.7"). Nickle-plated brass.
General
Weight
0.06 lb (0.03 kg)
Fitting Thread
G 1/4 BSPP
Materials
Nickel-Plated Brass, EPDM
Max Pressure @ 25°C
15kgf/cm2 (213.4psi)
Max Temp. Operating Tolerance
120°C (248°F)
Dimensions
Diagrams / Models
(See Files Tab for Diagrams and 3D Models)
Liquid Coolants
Koolance's product warranty does not cover the use of 3rd-party coolants, coolant additives, or corrosion. Koolance LIQ-702 or LIQ-705 coolants are strongly recommended to help avoid issues with mixed metals or biological growth. Additionally, do not use aluminum with bare (unplated) copper or bare (unplated) brass in the same system. Do not use silver with nickel in the same system.