Hard Drive Coolers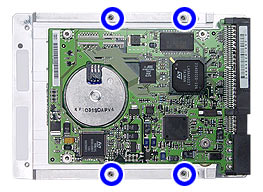 Hard drive water blocks are available for single or dual (HD-57, HD-60) hard drive cooling. The coolers can be sandwiched between dual hard drives, with one drive mounted upside-down.
Koolance Hydra-Pak hard drive coolers are universally compatible with most 3.5" hard drives. They are mounted using the 4 screw holes on the bottom side of the drive. Bus interface (SATA, IDE, SCSI, SAS) is irrelevant for compatibility.
The first requirement is sufficient distance between installed hard drives. For the HD-57 water block, there should be at least 0.9 inches (23mm) for a single hard drive, or 0.7 inches (17mm) for cooling dual hard drives. And for the HD-60, there should be at least 5/16 inches (8.5mm) of clearance between hard drives.
If space is unavailable, consider spacing out hard drives to make room. A hard drive can also be mounted upside-down to allow for a liquid cooler to attach above it.
The second requirement is a compatible hard drive mounting method. In general, hard drives are mounted inside computer chassis with side screws, rails, or individual trays:
Screw and rail-mounted drives are generally compatible with any Koolance hard drive liquid cooler (provided there is room). However, tray-mounted drives are not compatible with Koolance HD-57 or HD-60 coolers because the tray interferes with the dual "sandwich" mounting method.
Depending on the nozzles chosen for it, the HD-57 and HD-60 water blocks may not work in all systems. If your chassis places the hard drive connections near a side panel (perpendicular to the front), make sure the selected cooling block nozzles will fit. Each nozzle page has a "diagrams" button with dimensions.
Whichever Koolance product is used, water blocks are not mounted directly to the drive bay. They attach to the drive, which is then secured to the chassis by traditional means.
For example, when using the Koolance HD-57, only one of two hard drives is mounted to the chassis; the other rests above or hangs below the liquid cooler.