HD-60 Cold Plate for 3.5in Hard Drives, 100mm x 146mm (3.9in x 5.7in)
Part No. HD-60
This product is archived and displayed for information only. It is no longer available for purchase.

Released: 24 April 2008
The double sided Koolance HD-60 captures heat from the spindle motor and printed circuit boards of one or two 3.5-inch IDE, SATA, SCSI, or SAS drives. The HD-60 allows any available fitting diameter.

The HD-60 is an all-metal water block, providing a thin profile of just 5/16in (8.5mm) for single or dual hard drive cooling. One bi-pack of thermal encapsulate is provided with the HD-60 for cooling a single hard drive. A Second Hard Drive Kit is required if cooling two drives.

NOTE: The HD-60 water block may not work in all systems. If your chassis places the hard drive connections near a side panel (perpendicular to the front), make sure there is sufficient clearance for the HD-60. For a better understanding of compatibility, please click here.
General
Weight
1.12 lb (0.51 kg)
Max Pressure Tolerance @ 25°C
2kgf/cm2 (28.5psi)
Max Temperature Tolerance
100°C (212°F)
Wetted Materials
Nickel-Plated Copper, Nickel-Plated Brass, Stainless Steel, EPDM
Dimensions
Diagrams / Models
(See Files Tab for Diagrams and 3D Models)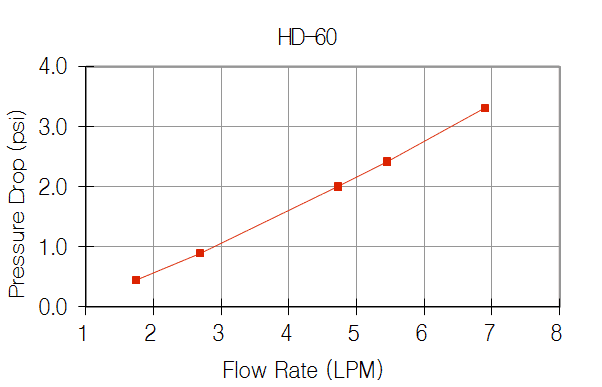 Liquid Coolants
Koolance's product warranty does not cover the use of 3rd-party coolants, coolant additives, or corrosion. Koolance LIQ-702 or LIQ-705 coolants are strongly recommended to help avoid issues with mixed metals or biological growth. Additionally, do not use aluminum with bare (unplated) copper or bare (unplated) brass in the same system. Do not use silver with nickel in the same system.