Fitting Coupling Adapter, Male-Female, G 1/4 BSPP
Part No. ADT-XMF

In Stock
Fedex orders placed now will ship on September 28th.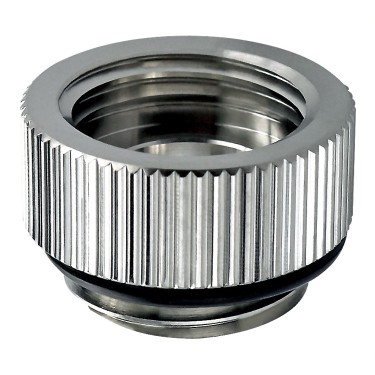 ADT-XMF is a Male-Female G 1/4 BSPP (parallel) thread coupler. Among various applications, it could be used as a spacer for obtaining extra fitting clearance. The body height, not including the male threading, is 7mm (1/4in).

NOTE: Koolance G 1/4 BSPP (parallel) thread fittings are recommended for this product due to their short thread length (4mm). Other brands of G 1/4 BSPP fittings may need trimming to fit this product.
General
Weight
0.03 lb (0.01 kg)
Fitting Thread
G 1/4 BSPP
Max Pressure Tolerance @ 25°C
15kgf/cm2 (213.4psi)
Max Temperature Tolerance
120°C (248°F)
Wetted Materials
Brass, Nickel Plating, EPDM
Dimensions
Diagrams / Models
(See Files Tab for Diagrams and 3D Models)
Liquid Coolants
Koolance's product warranty does not cover the use of 3rd-party coolants, coolant additives, or corrosion. Koolance LIQ-702 or LIQ-705 coolants are strongly recommended to help avoid issues with mixed metals or biological growth. Additionally, do not use aluminum with bare (unplated) copper or bare (unplated) brass in the same system. Do not use silver with nickel in the same system.