Reservoir, RP-1000/RP-1005 [10mm, 3/8in ID]
Part No. TNK-CD002S

In Stock
Fedex orders placed now will ship on September 28th.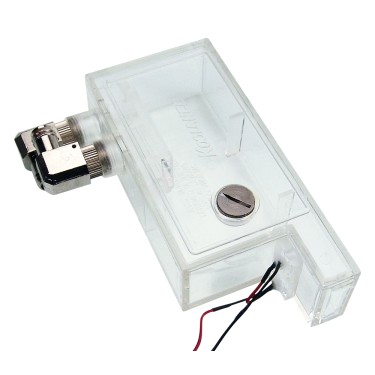 ID:
10mm (3/8")
OD:
13mm (1/2")
Wall:
1.5mm (1/16")
Intended Tubing Size

Reservoir used in the Koolance RP-1000 and RP-1005 products, usually combined with the PMP-400 pump. Includes blue LED tank lighting. Swiveling fittings are 3/8in (10mm) ID, nickel-plated brass. Overall size including fittings is 4.4" x 6.1" x 1.6" (11.2cm x 15.5cm x 4cm).
General
Weight
0.55 lb (0.25 kg)
Reservoirs
Capacity
237mL (8 fl oz)
Dimensions
Diagrams / Models
(See Files Tab for Diagrams and 3D Models)
Liquid Coolants
Koolance's product warranty does not cover the use of 3rd-party coolants, coolant additives, or corrosion. Koolance LIQ-702 or LIQ-705 coolants are strongly recommended to help avoid issues with mixed metals or biological growth. Additionally, do not use aluminum with bare (unplated) copper or bare (unplated) brass in the same system. Do not use silver with nickel in the same system.